FASTcc in collaboration with Viking Fast Craft Solutions of Biloxi in the USA developed a Rescue and Fast Response Boat (RB-M) for the US-Coastguard based upon the optimised Hysucat hulls in combination with a hydrofoil-assist-system.
The hulls are of the fully asymmetrical deep-V-planing hull with a double-arc tunnel, a ventilated wave-spoiler and a tapered spray rail as developed by Prof. Hoppe to achieve an optimum combination of hulls and foils for this hybrid with pleasant sea-keeping at high speeds.
Viking developed the arrangement and detail design in aluminium and construction drawings of hulls and superstructure for plate NC cutting.
As Rescue Boat the RB-M12 was to be equipped with a propulsion system for shallow water operation and high speed rough water capabilities and speeds over 40 knots.
Twin Yanmar Diesel engines with 2 * 310 kw, 2F280 gears and twin KaMeWa waterjets were selected.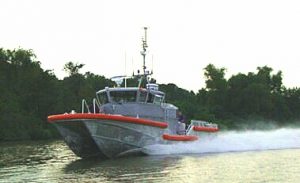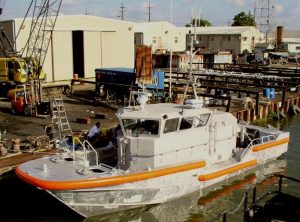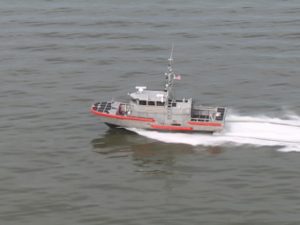 The fully laden RBM displaces about 12 t and reached top speeds of 42,5 knots during extensive trial runs. Performance calculations were conducted with the Hysucat mathematical model and with the KaMeWa power-thrust-speed characteristics a speed of 42 knots was predicted which was well achieved during trials. The power ratio ep = ?Pb / (? * V) = 0,24 at a Froude Displacement number FnD = 4,02 indicates a very efficient high speed craft.
The builder Ocean Technical Services, Inc (OTECH) finalized the construction of this prototype inside 4 months after which the RBM12 was tested with two other competing craft of monohull design by the US Coastguard over 6 months in various sea conditions from calm to extremely rough.